SERVICES
Kaminia Blu Villa Kefalonia
EXPERIENCE UNIQUE MOMENTS
Luxury Facilities
Experience unique relaxing moments while enjoying your drinks and cocktails in total privacy, at the villa's infinity pool or the hot tub. Prepare the perfect meal at the fully-equipped kitchen and the barbecue, enjoy the magnificent view and the sea breeze.
Engage in any of a wide range sports and activities available throughout the island to stay fit and enjoy your summer holidays in Kefalonia to the maximum.
Your hosts, Nikos and Olga are here to assist at all the times and to offer suggestions of places to visit and other activities. It is our pleasure to share our knowledge of the beautifulI Island Kefalonia.
A Warm Welcome
A welcome pack with local organic fruit & a bottle of selected wine is also provided. Private check-in and check-out available.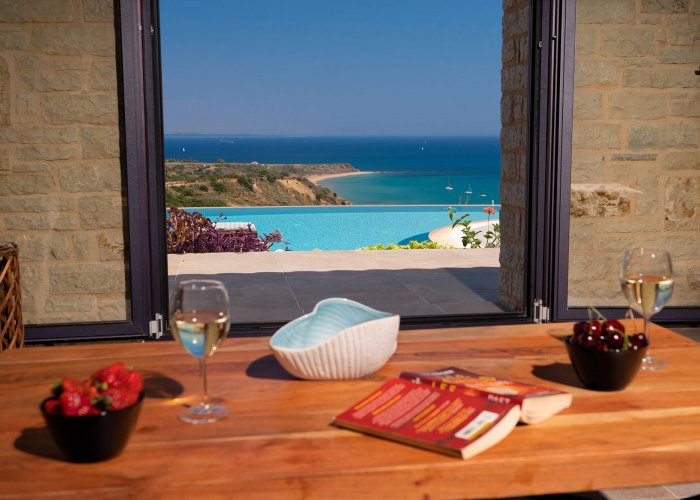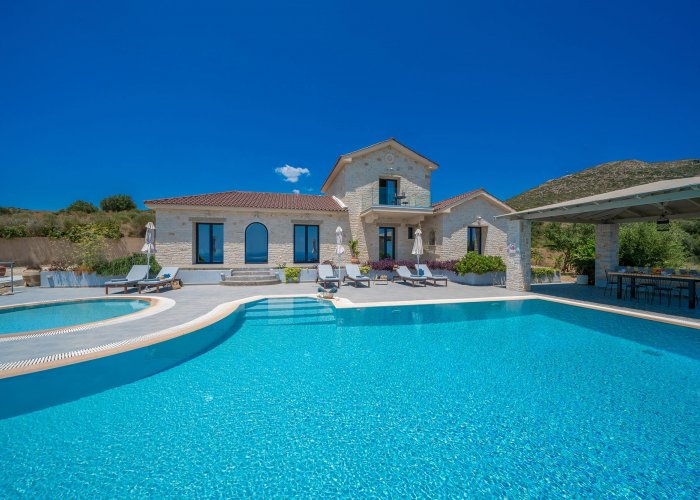 The Infinity Pool
Ultimate relaxation under the sun in the large private swimming pool featuring: Private infinity swimming pool 72sq.m area with magnificent sea view, jacuzzi, sunbeds, pool towels, private toddlers pool 15sq.m area with sea view
Private Dining
Time for dinner? Kaminia Blu Villa offers: Fully equipped kitchen and dining area, outdoor BBQ and dining area, on-demand meal arrangements, private chef services and packaged meals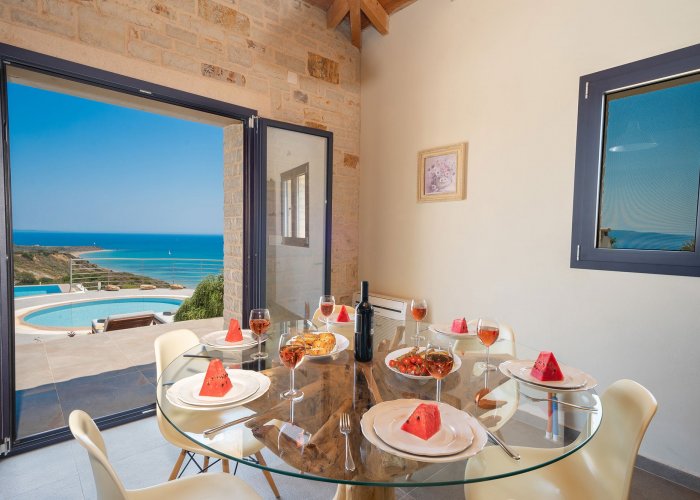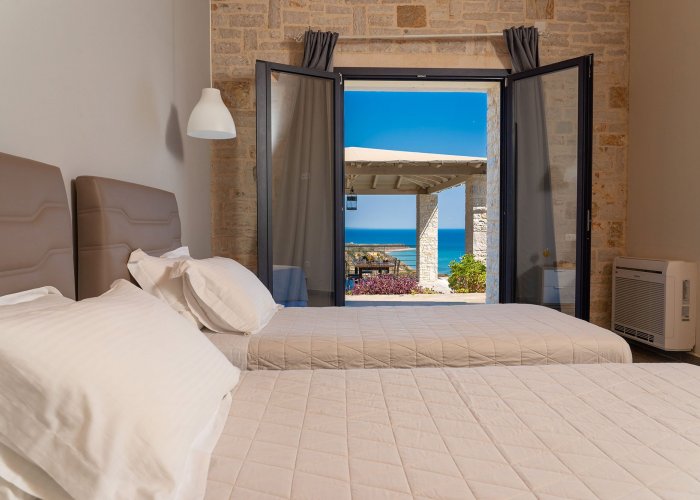 Comfort Amenities
Kaminia Blu offers all facilities and amenities for your comfort like: Fine cotton lavish sheets & bed linen, luxury COCO-MAT mattresses with antivirus centificate, washing machine, ironing facilities, housekeeping by professional staff, towels & pool towels
A Hi-Tech Villa
Kaminia blu Luxury Villa is a hi-tech residence featuring: 32 inch. TV set in the living room, full satellite channels in all TV sets, free Wi-Fi hotspot internet access in all areas, ethernet internet access in all bedrooms, individually controlled - central air conditioning system, state-of-the-art security alarm system.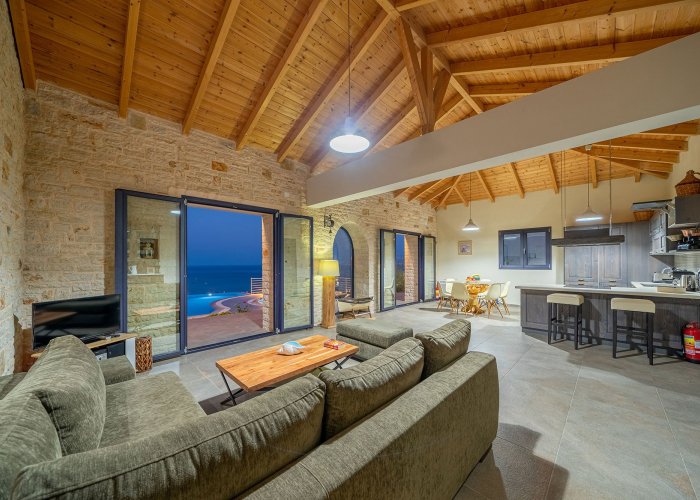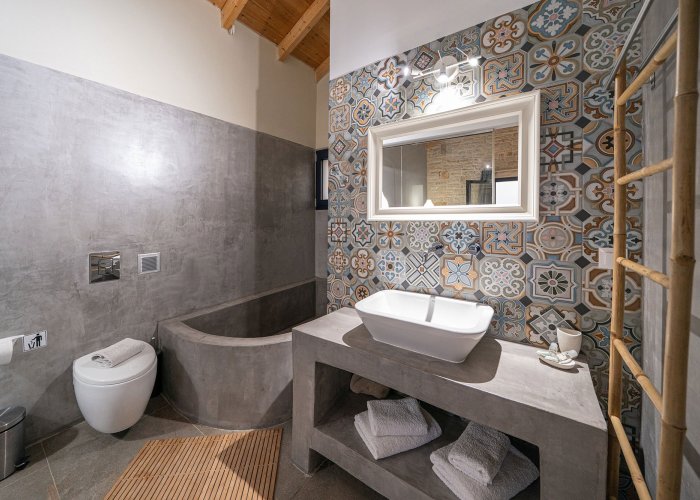 Bathroom Amenities
All of the villa's ensuite bathrooms include: Walk-in shower cabins, hair dryer, fine cotton lavish bath towels and pool towels, bath products, free toiletries.
Kids & Family
Kaminia Blu is ideal for families with children, featuring: In-Toddlers pool, non-smoking rooms.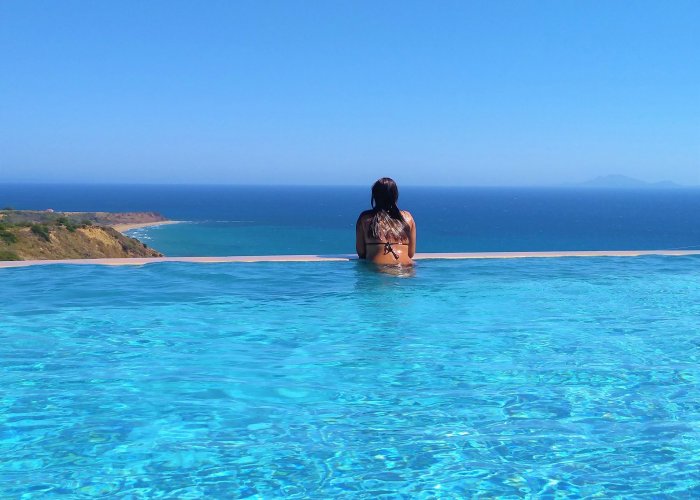 Health & Safety
Our guests safety & security come first. That is why the villa is equipped with: First aid kit, fire extinguishers, state-of-the-art security system, private parking, safes in master bedroom.
BOOK NOW
Modern design, elegance and luxury meets traditional architecture in Kaminia Blu Villa. Reserve your stay for an unforgettable experience.
BOOK NOW